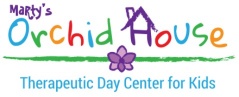 Marty's Orchid House
Therapeutic Day Center For Kids
Ironwood Insights Group has chosen Marty's Orchid House as their official charity and is dedicated to supporting the organization with supplies and financial donations.
Marty's Orchid House is a therapeutic day program for young children facing behavior, emotional and health challenges to allow intense intervention along with integration and socialization with peers. Just as an Orchid is very sensitive to its environment and requires specific conditions to thrive, many children require a positive and supportive environment to reach their full potential. We are committed in advocating for high-risk children to increase the possibilities of a bright future.
Visit their website at www.orchidhouse.org.